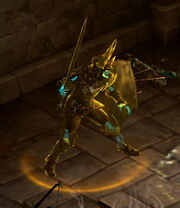 Revelor, Manslayer, 
is a
Unique
Revenant Shield Guard
found in the
House of Screams
in
Act V
of
Diablo III
. He spawns for an unmarked event.
In combat, he has Illusionist and Electrified affixes. When his Life drops below 50%, and every 20 seconds, several Revenant Archers and Revenant Soldiers come to his aid, crawling out of air ducts.