Roland's Bearing is a Chest piece of the Roland's Legacy set in Diablo III.
It only drops at character level 70, and only at Torment difficulty. Note that it can only be worn by Crusaders.
It is one of the few set items with item graphics in the inventory being different depending on the character's gender.
Stats (Level 70)
Edit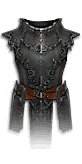 Roland's Bearing
Set Chest Armor
Set Bonuses:
Every cast of Shield Bash and Sweep Attack that hits an enemy reduces the cooldowns of Laws and Defensive Skills by 1 second (2 pieces)
Increases the Shield Bash and Sweep Attack damage by 3300% (4 pieces)
Every cast of Sweep Attack or Shield Bash that hits an enemy grants the Crusader 50% increased Attack Speed and 15% reduced damage taken for 8 seconds, stacking up to 5 times (6 pieces)