Sacrifice (Diablo III)
Talk

0
7,104pages on
this wiki
For the Diablo II Paladin skill, see Sacrifice (Diablo II).
Sacrifice is a Terror Witch Doctor skill. It is unlocked at level 13.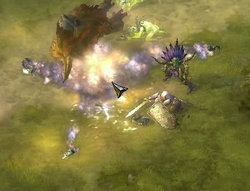 When activated, all currently summoned Zombie Dogs (and only Zombie Dogs, regardless of which way they have been summoned) of the Witch Doctor explode, each dealing 185% damage as Physical to enemies within 12 yards of itself, but dying in process.
Costs no Mana and has no cooldown.
Black Blood: exploding Zombie Dogs also Slow affected enemies by 60% for 8 seconds.
Next of Kin: each sacrificed Zombie Dog has a 35% chance to resurrect as a new Zombie Dog with full Life.
Pride: gain 60 Mana for each sacrificed Zombie Dog.
For the Master: gain Life for each sacrificed Zombie Dog. The amount regained scales with level, up to 82526 Life per Dog at level 70.
Provoke the Pack: the Witch Doctor gains +5% increased damage done for 30 seconds for each sacrificed Zombie Dog. Next cast of Sacrifice overrides the old stacks instead of adding them.
In the current state, the skill is of doubtful usefulness: while alive, the dogs potentially deal more damage than if sacrificed. The developers are looking forward to change it in Patch 2.1, greatly increasing damage and making this skill only sacrifice one dog at a time, exploding it at specified location.[1]
References
Edit