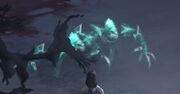 Shipwrecked Souls are a variant of Wraiths, only encountered in Greyhollow Island (Act V) and Eternal Woods (Act III) in Adventure Mode in Diablo III.
In the Greyhollow, they are presumed to be the souls of crewmen of the countless ships that ran aground on this accursed shore. Their presence in Sescheron is not explained.
Shipwrecked Souls do not have the signature ranged life drain attack of Wraith subtypes, only fighting in melee instead. Instead, they are the fastest of them all, and may spawn if skeletal remains are disturbed.