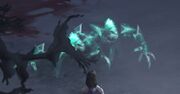 Shipwrecked Souls are a variant of Wraiths, only encountered in Greyhollow Island (Act V) and Eternal Woods (Act III) in Adventure Mode in Diablo III.
In the Greyhollow, they are presumed to be the souls of crewmen of the countless ships that ran aground on this accursed shore. Their presence in Sescheron is not explained.
Shipwrecked Souls do not have the signature ranged life drain attack of Wraith subtypes, only fighting in melee instead. However, they are the fastest of them all, and may spawn if skeletal remains are disturbed.
Ad blocker interference detected!
Wikia is a free-to-use site that makes money from advertising. We have a modified experience for viewers using ad blockers

Wikia is not accessible if you've made further modifications. Remove the custom ad blocker rule(s) and the page will load as expected.