Ad blocker interference detected!
Wikia is a free-to-use site that makes money from advertising. We have a modified experience for viewers using ad blockers

Wikia is not accessible if you've made further modifications. Remove the custom ad blocker rule(s) and the page will load as expected.
Shock Web is an Assassin Skill in Diablo II.
These traps comprise a collection of small conductive components that arc electricity between one another, damaging any opponents who tread upon them.
General Information
Edit
Synergies
Edit
Gives synergy to:
Receives synergy from:
This skill causes the assassin to drop an array of small traps that shoot lightning between each other or anything that walks in between them. Enemies that stay within the trap's area of effect take continual damage.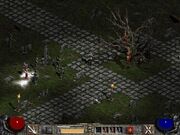 This skill is helpful early on, but it is nowhere near as useful as the later lightning-based traps that the Assassin can learn due to its inferior damage output. It still serves a purpose, though, by giving synergy bonuses to those later skills.
Skill Progression
Edit
Mana Cost: 6
Duration: 3.6 seconds
| Level | 1 | 2 | 3 | 4 | 5 | 6 | 7 | 8 | 9 | 10 | 11 |
| --- | --- | --- | --- | --- | --- | --- | --- | --- | --- | --- | --- |
| Spikes | 6 | 6 | 6 | 7 | 7 | 7 | 7 | 8 | 8 | 8 | 8 |
| Lighting Damage | 1–10 | 1–13 | 1–16 | 1–19 | 1–22 | 1–25 | 1–28 | 1–31 | 1–37 | 1–43 | 1–49 |
| Level | 12 | 13 | 14 | 15 | 16 | 17 | 18 | 19 | 20 | 25 |
| --- | --- | --- | --- | --- | --- | --- | --- | --- | --- | --- |
| Spikes | 9 | 9 | 9 | 9 | 10 | 10 | 10 | 10 | 11 | 12 |
| Lightning Damage | 1–55 | 1–61 | 1–67 | 1–73 | 1–79 | 1–89 | 1–99 | 1–109 | 1–119 | 1–175 |