Skeletal Mage (formerly Raise Dead) is a Secondary Necromancer skill in Diablo III. Unlike its previous incarnation in Diablo II, it serves more as a direct damage spell than a summoning skill.
When activated, briefly summons a Skeletal Mage to attack the designated target (unless it is out of reach, dies, or is unattackable, in which case the skeleton retargets to another random foe, like a normal pet). For the duration, the Mage can follow its master.
Necromancer can summon up to 10 total Mages at the same time; excessive Mages will despawn the previously summoned minions. Mages are summoned right next to the Necromancer.
The damage in the tooltip is not the total damage of one use of Skeletal Mage, but rather the damage of the minion it summons per attack. The number of attacks it can make is only limited by the duration and attack speed. Each attack consists of two bolts of energy in quick succession, normally dealing 200% damage per bolt.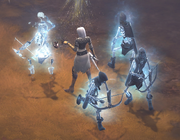 Non-rune enhancements
Edit
Scythe of the Cycle (Legendary Scythe): deals 250-300% additional damage while Bone Armor is active but each cast reduces the remaining duration of Bone Armor by 3 seconds.
Razeth's Volition (Legendary Pauldrons): Skeletal Mage gains the effect of the Gift of Death rune (in addition to any other).
Circle of Nailuj's Evol (Legendary Ring): each cast raises an additional Skeletal Mage, and duration increases by 2-4 seconds. The limit of 10 Skeletal Mages does not increase.
Tasker and Theo (Legendary Gloves): Mage attacks 40-50% faster.
Enforcer (Legendary Gem): increases damage by 15% (+0.3% per rank) and reduces damage taken by 90% (rank 25 bonus).
Bones of Rathma Set (Set Bonus for 2 items): Necromancer's minions have a chance to reduce the remaining cooldown of Army of the Dead by 1 second each time they deal damage.
Bones of Rathma Set (Set Bonus for 4 items): the Necromancer gains 1% damage reduction for 15 seconds each time their minions deal damage, stacking up to 50 times.
Bones of Rathma Set (Set Bonus for 6 items): each active Skeletal Mage increases the damage of all minions and Army of the Dead by 625%, up to 2500%.
Trag'Oul's Avatar Set (Set Bonus for 6 items): Life Support Skeletal Mages deal 3300% increased damage but cost twice as much Life to cast. Healing from skills is increased by 100%.
Jesseth Arms Set (Set Bonus for 2 items): while Skeletons are commanded to attack a target, Skeletal Mages deal 400% increased damage.
Ad blocker interference detected!
Wikia is a free-to-use site that makes money from advertising. We have a modified experience for viewers using ad blockers

Wikia is not accessible if you've made further modifications. Remove the custom ad blocker rule(s) and the page will load as expected.