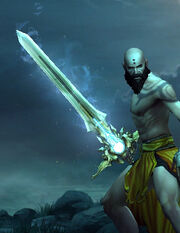 Skycutter is a Legendary sword in Diablo III. It requires character level 50 to drop.
The 'angelic assistance' is an angel (same as those seen around in Act IV) which lives for 10 seconds before dying. Only one angel may be summoned at a time, much in likeliness of the Maximus sword summoning a demonic slave.
In addition to that, a significant Holy skills damage bonus may be very valuable to Monks and Crusaders.
Stats (Level 50)
Edit

Skycutter
Legendary Sword
Properties:
382.2–440.3 Damage Per Second

(215–249)–(331–380) Damage
1.40 Attacks per Second

Holy skills deal 15–20% more damage.
Chance to summon angelic assistance when attacking
+(150–184)–(180–229) Holy Damage
One of 3 Magic Properties (varies):
+2 Random Magic Properties
"The demons could not stand before the swords of the angelic Host, and their blood ran upon the fields of eternity." — The Books of Jarl, Volume III

This section contains facts and trivia relevant to this article.
Visually, the sword uses a very similar (but not the same) model as El'druin.
Ad blocker interference detected!
Wikia is a free-to-use site that makes money from advertising. We have a modified experience for viewers using ad blockers

Wikia is not accessible if you've made further modifications. Remove the custom ad blocker rule(s) and the page will load as expected.