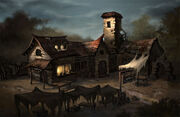 The Slaughtered Calf Inn is a location found in New Tristram in Act I of Diablo III. It is run by Bron the Barkeep.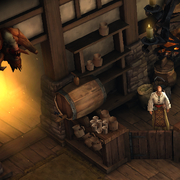 During the beginning of the game, Leah can be found here. She lives in a room of the inn that can be entered, rather than one in Cain's House. When the player first talks to Leah, the sick people that are standing in the Inn will turn into Risen Dead that the player has to defeat.
Walking into Leah's room will give the player the Visit Somewhere Nice achievement.

This section contains facts and trivia relevant to this article.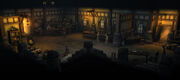 The inn was replicated at BlizzCon 2015 as a point of conversation with members of the development team.[1]
References
Edit
Ad blocker interference detected!
Wikia is a free-to-use site that makes money from advertising. We have a modified experience for viewers using ad blockers

Wikia is not accessible if you've made further modifications. Remove the custom ad blocker rule(s) and the page will load as expected.