Ad blocker interference detected!
Wikia is a free-to-use site that makes money from advertising. We have a modified experience for viewers using ad blockers

Wikia is not accessible if you've made further modifications. Remove the custom ad blocker rule(s) and the page will load as expected.
Smite is a Paladin Skill in Diablo II.
The sword of a Paladin represents the might of righteousness and his shield symbolizes the strength of his faith. Both are tools he uses to mete out justice. Just as righteousness can give his spirit the fortitude to overcome the attacks of the unjust, so too can faith be a weapon to strike back at those who work to defeat him. To this end, the Paladin has developed several combat techniques that use the shield not only for defense, but also as an offensive weapon.
General Information
Edit
Smite bashes an enemy with the Paladin's shield, damaging and Stunning them. When stunned, an enemy cannot move, attack, cast spells or otherwise use their abilities. By skill level 15, the player is dealing a powerful blow (225% of the Paladin's base damage) and stunning most standard enemies for almost four seconds.
In addition Smite is one of the few physical attacks in the game that have no reliance on attack rating. Each Smite is a guaranteed hit if uninterrupted.
Paladins utilizing Smite benefit from points put into Holy Shield, which increases smiting damage. Smite does not work with Life Steal and Mana Steal, but does steal life with Life Tap curse on target. Smite is a weapon skill and thus is affected by Attack Speed and not affected by Cast Rate. Smite works with any "X% Chance to cast level Y (spell) upon striking" ability on the primary weapon. Smite can also deal Crushing Blow and Open Wounds, but not Deadly Strike and elemental damage. Using Smite reduces the durability of the user's weapon, not their shield.
Smite does not receive added damage vs. undead with the Sanctuary aura. The Fire/Cold/Lightning damage added to attacks with the Holy Fire, Holy Freeze, and Holy Shock auras do not add onto Smite damage. As Smite is affected by attack speed and damage increases, Fanaticism works excellently with it. Concentration and Might also work well for similar reasons, though their damage increases are smaller and they do not grant the benefit of increased attack speed. 
Synergies
Edit
Skill Progression
Edit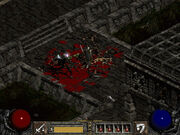 Mana Cost: 2
| Level | 1 | 2 | 3 | 4 | 5 | 6 | 7 | 8 | 9 | 10 |
| --- | --- | --- | --- | --- | --- | --- | --- | --- | --- | --- |
| Damage +% | 15 | 30 | 45 | 60 | 75 | 90 | 105 | 120 | 135 | 150 |
| Stun (seconds) | 0.6 | 0.8 | 1.0 | 1.2 | 1.4 | 1.6 | 1.8 | 2.0 | 2.2 | 2.4 |
| Level | 11 | 12 | 13 | 14 | 15 | 16 | 17 | 18 | 19 | 20 | 25 |
| --- | --- | --- | --- | --- | --- | --- | --- | --- | --- | --- | --- |
| Damage +% | 165 | 180 | 195 | 210 | 225 | 240 | 255 | 270 | 285 | 300 | 375 |
| Stun (seconds) | 2.6 | 2.8 | 3.0 | 3.2 | 3.4 | 3.6 | 3.8 | 4.0 | 4.2 | 4.4 | 5.4 |