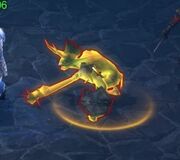 Snapbite, The Bonechewer,
is a
unique
Fallen One
that can be found during the
Blood Ties
event
in
The Barracks
 Level 2 in
Diablo III
. Killing him is required to complete the event.
Snapbite does not seem to possess any special traits, but attacks much faster and with greater damage than other Unique monsters.
Ad blocker interference detected!
Wikia is a free-to-use site that makes money from advertising. We have a modified experience for viewers using ad blockers

Wikia is not accessible if you've made further modifications. Remove the custom ad blocker rule(s) and the page will load as expected.