This page contains obsolete content
This article contains information that is no longer relevant to gameplay, but is kept here for informational purposes.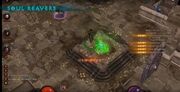 Soul Reavers is a cut event from Diablo III, intended for implementation in the third version of the also cut Challenge Mode. Here, players had to survive skeletons for a set period of time. The skeletons were of different colors, corresponding to a circle around each player character. If the player killed skeletons of the same color, they would score points.[1]
References
Edit
↑ 2016-12-17, Evolution of Cursed Events ft. Zaven Haroutunian. YouTube, accessed on 2016-12-21
Ad blocker interference detected!
Wikia is a free-to-use site that makes money from advertising. We have a modified experience for viewers using ad blockers

Wikia is not accessible if you've made further modifications. Remove the custom ad blocker rule(s) and the page will load as expected.