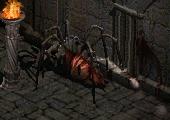 Spin Web is a monster skill used by the Giant Spider class monsters. When near death, they will run away from the player while spraying globs of spider silk behind them. These form into small trails of webbing that greatly slow you while walking over them, making it hard to catch up to the fleeing spider.
If you can be delayed long enough for the spider to heal, it will come back and rejoin the fight.
Ad blocker interference detected!
Wikia is a free-to-use site that makes money from advertising. We have a modified experience for viewers using ad blockers

Wikia is not accessible if you've made further modifications. Remove the custom ad blocker rule(s) and the page will load as expected.