Stony Field is an area located in Act I, and is reached by following a split in the path through the Cold Plains. The Stony Field is connected to the Dark Wood through the Underground Passage. Several monsters inhabit this area, including, but not limited to, Skeletons, Corrupted Rogues, and Fallen.
The Stony Field is home to the Cairn Stones, which the player is required to activate during the Search for Cain quest. The Cairn Stones are guarded by Rakanishu, one of the Fallen. The Moldy Tome can also be found here, which will activate The Forgotten Tower quest.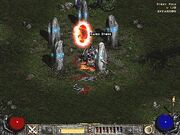 Ad blocker interference detected!
Wikia is a free-to-use site that makes money from advertising. We have a modified experience for viewers using ad blockers

Wikia is not accessible if you've made further modifications. Remove the custom ad blocker rule(s) and the page will load as expected.