For the sword of the same name, see [[
El'druin
]].
Sword of Justice
is a five-part
Diablo III
comic by
DC Comics
, authored by
Aaron Williams
and illustrated by
Joseph Lacroix
. It started selling in November 2011.
The paperback graphic novel collection went on sale July 9, 2013.[1]
The main character, Jacob, receives visions of an ancient prophecy from Tyrael's sword. The prophecy leads him to the archangel.[2] It is set 20 years after the events of Lord of Destruction[3] and acts as a bridge between Diablo II and its sequel, giving information on what has been happening in Sanctuary in the two decade gap between games.[4] It is mostly centered in the Dreadlands and the Arreat Crater. Other locations glimpsed at include Lut Gholein.[3]
The series was written as the storyline for Diablo III was being developed, and so was subject to redrafts. One draft had Jacob visiting the Forgotten Tower.[3]
Diablo #1
Edit
November 23, 2011.
From the world and legends of Sanctuary, the setting for the award-winning Diablo video game, comes the tale of a hero's birth. Jacob has fled from his homeland in the north, hunted by his kinsmen for the crime of murder.
Led by the visions of an ancient prophet, pursued by his childhood friend, Jacob finds his destiny in a desert cave at the foot of a mountain carved in two by the sword of an archangel – Tyrael. But will Jacob be able to claim the sword that could save his people, if not the world, before he's brought to "justice"?[5]
Diablo #2
Edit
The Dreadlands are being corrupted by madness, causing its victims to open their flesh and lash out at friend and foe alike. Jacob, a young fugitive from the city of Staalbreak, may be Sanctuary's only hope to stop this plague before it consumes or destroys mankind. His destiny is bound to a mysterious sword and the woman who watches over it, but his own troubled soul may keep him from embracing its true power in time.
Writer: Aaron Williams
Art and cover: Joseph Lacroix
Release Date: January 18, 2012[6]
Diablo #3
Edit
Jacob's quest to atone for his past and rid his homeland of a supernatural plague continues! Joined by the wizard Shanar, the duo find themselves pitted against terrible evils as well as Jacob's own corrupted countrymen. To save them, the young hero must risk his life as well as the newfound Sword of Justice by placing himself at their mercy. With Sanctuary's very survival at stake, what dark secrets will Jacob learn as a result?
Writer: Aaron Williams
Art/Cover: Joseph LaCroix
Publisher: DC Comics
Pages: 32
Price: $2.99 US
Release Date: March 21, 2012[7]
Diablo #4
Edit
Continuing the story based on the hit video game! JACOB, armed with the SWORD OF JUSTICE continues his quest to discover the source of the rage plague near STAALBREAK! If left unchecked, this evil may threaten all of SANCTUARY!
Written by AARON WILLIAMS; Art and cover by JOSEPH LACROIX
Pages: 32
Release Date: May 30, 2012.[8]
Diablo #5
Edit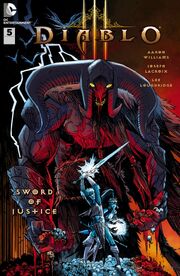 • Staalbreak's future hangs in the balance as the barbarian horde attacks in the miniseries' finale.
• Discover the origin of the evil Sanctuary!
• Jacob and Shanar gain a new ally in their quest for the source of the Rage Plague!
• Journey with the last defenders against the demonic infestation of the Dreadlands into the ruins of Mount Arreat!
Release Date: August 29, 2012.[9]
An interview with the comic creators indicated that the events took place not long before those of Diablo III.[3] Text in Storm of Light however indicates that it happened long beforehand.
References
Edit
Ad blocker interference detected!
Wikia is a free-to-use site that makes money from advertising. We have a modified experience for viewers using ad blockers

Wikia is not accessible if you've made further modifications. Remove the custom ad blocker rule(s) and the page will load as expected.