Tainted
Talk

0
6,180pages on
this wiki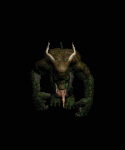 These fearsome demons possess the ability to hurl spheres of lightning at their foes. They move slowly because of their hulking forms. The Tainted prefer to use their melee attack to strike any adventurers that step close into their paths and when wounded, they retreat and use their Lightning Globes. They have a natural resistance to lightning and are immune to it on Hell difficulty.
The Tainted come in five different varieties: Misshapen, Disfigured, Tainted, Afflicted, and Damned. The Tainted can be first discovered as early as the Monastery Gate and can be encountered in the Barracks, Jail, Cathedral and the Catacombs.
A super unique Tainted is Pitspawn Fouldog.
Background
Edit
These malformed demons gain their strength and resilience from the natural element of lightning. While slow of foot, these beasts deliver a palpable hit when engaged at close range and can absorb a fair amount of damage. Tainted are perhaps an even greater threat when wounded, however, as this is when they retreat and direct orbs of lightning at their enemies.
In several of the caves in Act 1, there are cave paintings of Tainted firing their lightning spheres.