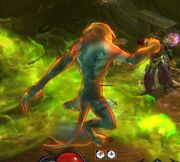 Templeton, Gluttonous Vermin, is a unique Rat Caller found in the Plague Tunnels Level 1 in Act V of Diablo III. It has a very low spawn rate, but as of patch 2.2.0, appears more often.
In combat, he has the Poison Enchanted affix.

This section contains facts and trivia relevant to this article.
The name and title of this monster may be a reference to Charlotte's Web, and/or its film adaptations, particularly to Fat Templeton the Rat.