For the gameplay mechanic, see
Armory
.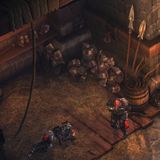 The Armory is a small zone between Bastion's Keep Watchtower and Bastion's Keep Stronghold in Act III of Diablo III.
All parts to the Leah's Keep Journal can be found here through the act. While Bastion's Keep Stronghold still serves as the main town in Act IV, the player is unable to access this area during that act.
Ad blocker interference detected!
Wikia is a free-to-use site that makes money from advertising. We have a modified experience for viewers using ad blockers

Wikia is not accessible if you've made further modifications. Remove the custom ad blocker rule(s) and the page will load as expected.