This page is a Rat's Nest!
This article does not meet the standards of the Diablo Wiki and needs a clean up.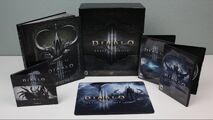 The Art of Diablo III: Reaper of Souls is a hardcover book included in the Collector's Edition of Diablo III: Reaper of Souls. The description of the book that comes with the Collector's Edition is as follows:
Explore the vast collection of artwork that went into the creation of Diablo III's first expansion. This hardback volume depicts the game's full artistic develop, from early sketches to final 3D renders.
Ad blocker interference detected!
Wikia is a free-to-use site that makes money from advertising. We have a modified experience for viewers using ad blockers

Wikia is not accessible if you've made further modifications. Remove the custom ad blocker rule(s) and the page will load as expected.