This page contains obsolete content
This article contains information that is no longer relevant to gameplay, but is kept here for informational purposes.
The Inquisitor was a Legendary cloak for the Demon Hunter in Diablo III. It required character level 60 to be worn. In Patch 2.0., it was replaced with The Cloak of the Garwulf.
This was one of the few chest armors to increase the character's movement speed.
Stats (Level 60)
Edit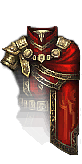 The Inquisitor
Legendary Cloak
Properties:
+220–349 Dexterity
+11–20 Resistance to All Elements
+12% Movement Speed
One of 2 Magic Properties (varies):

Regenerates 161–234 Life per Second
Regenerates 281–410 Life per Second

One of 6 Magic Properties (varies, increases damage of one secondary skill)
+1 Random Magic Properties
"No spawn of Hell can hide from the gaze of the Inquisitor, no matter what form it takes."
Ad blocker interference detected!
Wikia is a free-to-use site that makes money from advertising. We have a modified experience for viewers using ad blockers

Wikia is not accessible if you've made further modifications. Remove the custom ad blocker rule(s) and the page will load as expected.