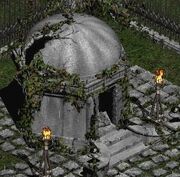 The Mausoleum is a building that can be found on the Burial Grounds which the player travels to for completing the Blood Raven Quest.
It is completely optional but it is worth checking out for both items and experience for low-level characters. Unlike its sister-cave, the Crypt, the Mausoleum does not house a super unique monster in its depths (like Bonebreaker in the Crypt). But, it still contains at least one unique monster in it.
The Mausoleum is also the first place with an area level of 85 on Hell, meaning that any item can drop there - it also contains only Lightning immune monsters, so some elemental characters might benefit from going there. The area itself however is quite small, and not often used for Magic Finding for this reason.
Ad blocker interference detected!
Wikia is a free-to-use site that makes money from advertising. We have a modified experience for viewers using ad blockers

Wikia is not accessible if you've made further modifications. Remove the custom ad blocker rule(s) and the page will load as expected.