Ad blocker interference detected!
Wikia is a free-to-use site that makes money from advertising. We have a modified experience for viewers using ad blockers

Wikia is not accessible if you've made further modifications. Remove the custom ad blocker rule(s) and the page will load as expected.
The Thorned Hulks are a type of monster found in the third act of Diablo II.
Thorned Hulks use a skill similar to Frenzy and have a chance to Stun the player upon striking. They also possess twice the health regeneration rate of regular monsters.
While they can inflict considerable damage and are fairly powerful in groups, they have somewhat poor defense and can be easily slain in a matter of hits much like the Wendigo.
Composed mostly of wood, Thorned Hulks are the ancestral protectors of the jungle lands. Despite their strength and immense bramble and thorn-covered arms, even they have been twisted by the Prime Evils. Their now glassy, lifeless eyes hint at a deep sorrow beneath a glowing Hell-induced hatred
Diablo II
Edit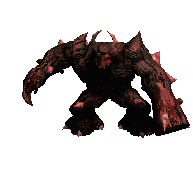 Thorned Hulks have three variants, all of which are found in Act III: Thorned Hulk, Bramble Hulk, and Thrasher. The Spikefist is a variant of the Thorned Hulk listed in the game files, but not found in game.
All variants of the Thorned Hulk are immune to Cold in Hell difficulty.
Thorned Hulk

| Property | Normal | Nightmare | Hell |
| --- | --- | --- | --- |
| Type | Animal | Animal | Animal |
| Act(s) found in | 3 | 3 | 3 |
| Monster Level | 21 | 49 | 79 |
| Experience | 405 | 8041 | 55953 |
| Health points | 119–193 | 1839–2226 | 7826–12631 |
| Damage 1 | 12–20 | 36–65 | 81–145 |
| Attack Rating 1 | 197 | 1020 | 3339 |
| Damage 2 | 10–20 | 30–61 | 68–136 |
| Attack Rating 2 | 197 | 1166 | 3816 |
| Defense | 107 | 957 | 2164 |
| % to Block | 21 | 21 | 21 |
| Damage Resist | 0 | 0 | 25 |
| Magic Resist | 0 | 0 | 0 |
| Fire Resist | 0 | 0 | 0 |
| Cold Resist | 0 | 0 | 120 |
| Lightning Resist | 0 | 0 | 0 |
| Poison Resist | 0 | 0 | 0 |
| Drain Effectiveness | 100 | 85 | 75 |
| Immunities | — | — | Cold |
| Chill Effectiveness | 50 | 40 | 33 |
Bramble Hulk

| Property | Normal | Nightmare | Hell |
| --- | --- | --- | --- |
| Type | Animal | Animal | Animal |
| Act(s) found in | 3 | 3 | 3 |
| Monster Level | 22 | 50 | 80 |
| Experience | 446 | 8603 | 57720 |
| Health points | 128–208 | 1905–2306 | 7989–12896 |
| Damage 1 | 13–21 | 36–65 | 81–145 |
| Attack Rating 1 | 207 | 1039 | 3378 |
| Damage 2 | 11–21 | 30–61 | 68–136 |
| Attack Rating 2 | 207 | 1188 | 3861 |
| Defense | 112 | 974 | 2188 |
| % to Block | 22 | 22 | 22 |
| Damage Resist | 0 | 0 | 25 |
| Magic Resist | 0 | 0 | 0 |
| Fire Resist | 0 | 0 | 0 |
| Cold Resist | 0 | 0 | 130 |
| Lightning Resist | 0 | 0 | 0 |
| Poison Resist | 0 | 0 | 0 |
| Drain Effectiveness | 100 | 85 | 75 |
| Immunities | — | — | Cold |
| Chill Effectiveness | 50 | 40 | 33 |
Thrasher

| Property | Normal | Nightmare | Hell |
| --- | --- | --- | --- |
| Type | Animal | Animal | Animal |
| Act(s) found in | 3 | 3 | 3 |
| Monster Level | 23 | 52 | 81 |
| Experience | 490 | 9757 | 59486 |
| Health points | 136–220 | 2034–2463 | 8154–13160 |
| Damage 1 | 13–22 | 38–68 | 83–148 |
| Attack Rating 1 | 213 | 1077 | 3418 |
| Damage 2 | 11–22 | 32–64 | 69–139 |
| Attack Rating 2 | 213 | 1231 | 3907 |
| Defense | 117 | 1008 | 2213 |
| % to Block | 23 | 23 | 23 |
| Damage Resist | 0 | 0 | 25 |
| Magic Resist | 0 | 0 | 0 |
| Fire Resist | 0 | 0 | 0 |
| Cold Resist | 0 | 0 | 140 |
| Lightning Resist | 0 | 0 | 0 |
| Poison Resist | 0 | 0 | 0 |
| Drain Effectiveness | 100 | 85 | 75 |
| Immunities | — | — | Cold |
| Chill Effectiveness | 50 | 40 | 33 |
Super Unique Thorned Hulks
Edit