Tiger Strike is an Assassin skill in Diablo II.
Through extensive training in human, animal, and demonic anatomies, Assassins have developed the ability to perceive natural points of weakness in their foes and target these locations for especially devastating attacks.
Gives synergy to : None
Receives synergy from : None
This ability is a Charge-up attack. Any effect gained is listed below except for effects listed as Charge X.
A Charge-up Skill is an attack that adds a "charge" for each successive hit within a short time frame. While each Charge-up attack deals normal damage, the charges continue to accumulate until triggered or until the time limit runs out. To trigger the accumulated charges, strike a monster with either a normal attack or one of the Finishing Moves. It does not empower itself with charges.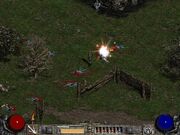 Tiger Strike adds an immense amount of physical damage to the finisher, but (as with all charge-up attacks) is slow to unleash its full potential due to the nature of the charge-up system.
Skill Progression
Edit
Mana Cost: 1
Level
1
2
3
4
5
6
7
8
9
10
11
Bonus Attack
15%
22%
29%
36%
43%
50%
57%
64%
71%
78%
85%
Charge 1
Bonus Damage
100%
120%
140%
160%
180%
200%
220%
240%
260%
280%
300%
Charge 2
Bonus Damage
200%
240%
280%
320%
360%
400%
440%
480%
520%
560%
600%
Charge 3
Bonus Damage
300%
360%
420%
480%
540%
600%
660%
720%
780%
840%
900%
Level
12
13
14
15
16
17
18
19
20
25
Bonus Attack
92%
99%
106%
113%
120%
127%
134%
141%
148%
183%
Charge 1
Bonus Damage
320%
340%
360%
380%
400%
420%
440%
460%
480%
580%
Charge 2
Bonus Damage
640%
680%
720%
760%
800%
840%
880%
920%
960%
1160%
Charge 3
Bonus Damage
960%
1020%
1080%
1140%
1200%
1260%
1320%
1380%
1440%
1740%