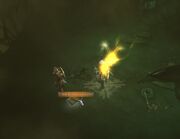 Tomb Robber's Journal is a tome found in Act I of Diablo III, in the Crypt of the Ancients in The Festering Woods, from a dead Crypt Robber.
It reads as follows:
We were so sure we could beat whatever traps the ancients had laid for the tomb robbers, but the dead bodies of my friends testify to the folly of our arrogance. I will be dead soon as well. Our greed was our downfall...
~Tomb Robber
Ad blocker interference detected!
Wikia is a free-to-use site that makes money from advertising. We have a modified experience for viewers using ad blockers

Wikia is not accessible if you've made further modifications. Remove the custom ad blocker rule(s) and the page will load as expected.