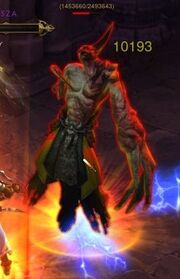 Tortured Soul, The Doom Scholar,
is a
Unique
Dark Thrall
found in the
Lyceum
in
Act I
of
Diablo III
. It spawns for
The Crumbling Tower
event, after the player disrupts all three rituals, appearing from the last summoning portal as it closes. Killing Tortured Soul ends the event.
In combat, he has Electrified, Jailer and Nightmarish affixes.
Ad blocker interference detected!
Wikia is a free-to-use site that makes money from advertising. We have a modified experience for viewers using ad blockers

Wikia is not accessible if you've made further modifications. Remove the custom ad blocker rule(s) and the page will load as expected.