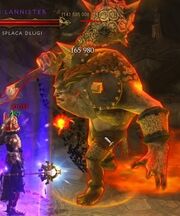 Tyloss Lannister, Always Pays His Debts, is a Unique Vault Sentry found in The Vault in Diablo III.
In combat, he has Orbiter, Molten and Jailer affixes.
Trivia

This section contains facts and trivia relevant to this article.
This monster is probably a reference to House Lannister from A Song of Ice and Fire and its TV adaptation Game of Thrones, which has the saying "a Lannister always pays his debts".