Tyrael's Might is a legendary chest armor in Diablo III. It requires character level 60 to drop.
This armor is unique in that it has increased damage to Demons roll, which is most valuable in Act III and Act IV. Like in Diablo II, it is also indestructible, which is a free seventh property as opposed to normal limit of six.
Prior to 2.1, it also had increased movement speed, being the only chest armor to have this affix.
Stats (Level 60)
Edit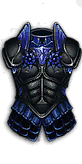 Tyrael's Might
Legendary Chest Armor
Properties:
+10–20% Damage to Demons
Ignores Durability Loss
One of 3 Magic Properties (varies):
+81–85 Resistance to All Elements
+3 Random Magic Properties
"And lo, the Angel of Justice did cast his judgment in favor of the nephalem." —The Books of Jarl, Volume III