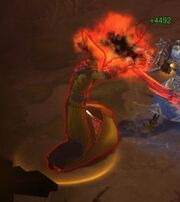 Urzel Modreg, Dark Hierophant
is a Super Unique
Dark Summoner
 in
Diablo III
. The player fights him and several
Dark Cultists
in
Wortham
 during the quest
The Doom in Wortham
, where he is eventually slain.
In combat, he has a Molten affix. Once he and his followers are dead, players must also defeat a Champion pack of Dark Berserkers before the quest is finished.
Ad blocker interference detected!
Wikia is a free-to-use site that makes money from advertising. We have a modified experience for viewers using ad blockers

Wikia is not accessible if you've made further modifications. Remove the custom ad blocker rule(s) and the page will load as expected.