Hello, this is Legacy and I just want to let everyone reading this that I enjoy editing various information on different wikis relating to gaming. World of Warcraft and Diablo 3 are the top two that I wish to work on but I will work with any other that I have some information on. These would include Fallout, Skyrim, Gears of War, Call of Duty and many many more.
Just send me an email at Xboxbullard@hotmail.com contact me directly through the wikis! Thanks for reading.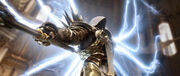 Ad blocker interference detected!
Wikia is a free-to-use site that makes money from advertising. We have a modified experience for viewers using ad blockers

Wikia is not accessible if you've made further modifications. Remove the custom ad blocker rule(s) and the page will load as expected.