Vengeance


Class: Demon Hunter
Required Level: 61
Skill Category: Devices
Active
Cooldown: 90 seconds

Turn into the physical embodiment of Vengeance for 20 seconds, increasing damage done by 40%.

Side Guns: gain 4 additional piercing shots for 60% damage as Physical each on every attack.

Homing Rockets: Shoot 2 rockets at nearby enemies for 80% damage as Physical each on every attack.

Damage Type: Physical
Other Stats: Shapeshift; Can be cast on the move; Does not interrupt casting; Breaks crowd control effects; Can be used under crowd control effects
Vengeance is a Devices skill for the Demon Hunter. It was introduced in Reaper of Souls.
While in Vengeance form, the Demon Hunter is immune to all forms of Crowd Control (existing effects are cleared) and their every attack (regardless of the Proc Coefficient) fires off additional ranged weaponry in the form of rockets and piercing bolts:
Side Guns: 4 additional piercing shots. The bolts pierce for 80-100 yards, hitting all enemies in line and ignoring most obstacles (including Waller affix barriers), but cannot pierce through solid walls. These are fired in the direction the Demon Hunter is facing or moving (during Strafe).
Homing Rockets: 2 rockets fired at random nearby enemies, in any direction.
Visually, the Demon Hunter turns into a creature of darkness. The helm shape is taken from Natalya's Sight, while the rest of armor is shaped like Archon item tier.
Non-rune enhancements
Edit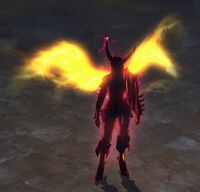 Ballistics: doubles damage done with Homing Rockets.

This section contains facts and trivia relevant to this article.
Ad blocker interference detected!
Wikia is a free-to-use site that makes money from advertising. We have a modified experience for viewers using ad blockers

Wikia is not accessible if you've made further modifications. Remove the custom ad blocker rule(s) and the page will load as expected.