Wall of Zombies
Talk

0
6,180pages on
this wiki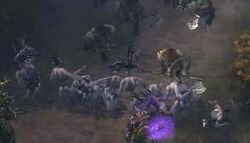 The Wall of Zombies skill works much like the Necromancer's Bone Wall; causing a straight line of obstacles to erupt from the earth. Not merely obstacles though, this wall is made of zombified creatures who claw at and deal damage to any monsters who come into range. Monsters attack the wall, so this isn't hard to do.
The wall zombies seem to be very powerful in the WWI gameplay movie, ripping dozens of Moon Clan Goatmen to shreds in just seconds.
The wall will theoretically serve a defensive purpose as well; blocking shots from ranged attackers. It is not known if it can stop the advance of larger monsters, who might just step over it or crush it.