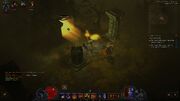 Warrior's Rest is a location in the Festering Woods in Act I of Diablo III. This area must be explored in order to complete the achievement Field Work.
It serves a similar purpose as Crypt of the Ancients, containing one holy Beacon that is needed to open the Drowned Temple. Likewise, a rare Skeleton is guaranteed to appear inside, and the Warrior's Rest tome can be found around.
However, this location is very small, although some buried nephalem structures can be seen below the bridge.
Related Quest
Edit
Ad blocker interference detected!
Wikia is a free-to-use site that makes money from advertising. We have a modified experience for viewers using ad blockers

Wikia is not accessible if you've made further modifications. Remove the custom ad blocker rule(s) and the page will load as expected.