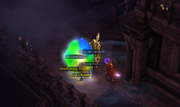 Whimsydale is a unique location in Diablo III that can only be accessed by killing a Rainbow Goblin. It uses the Whimsyshire tileset, and is overall identical to it. This location was added in patch 2.1.
This zone can spawn all the same Unique Monsters as Whimsyshire, with the exception of Sir William.
There is no special reward for beating it, except for a chance of obtaining Cosmic Wings from the rare spawn Princess Lillian.
As of the March 2017 patch, Whimsydale drops have been greatly increased, sometimes producing upwards of 2,000,000 gold and 10 legendary items in a single run.