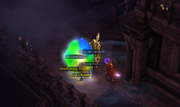 Whimsydale is a unique location in Diablo III that can only be accessed by killing a Rainbow Goblin. It uses the Whimsyshire tileset, and is overall identical to it. This location was added in patch 2.1.
This zone can spawn all the same Unique Monsters as Whimsyshire, with the exception of Sir William.
There is no special reward for beating it, except for a chance of obtaining Cosmic Wings from the rare spawn Princess Lillian.
Ad blocker interference detected!
Wikia is a free-to-use site that makes money from advertising. We have a modified experience for viewers using ad blockers

Wikia is not accessible if you've made further modifications. Remove the custom ad blocker rule(s) and the page will load as expected.