Whirlwind (Diablo III)
Talk

1
5,454pages on
this wiki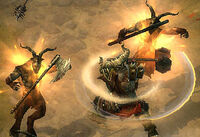 The spinning, multi-hitting tornado of a skill returns in Diablo III. As it did in Diablo II, Whirlwind lands multiple, bonus damaging hits to anything in the Barbarian's path, and it can strike multiple monsters per use.
It appears to be usable as long as the player wishes (fury permitting) And will drain rage quickly as you hold down the button, and You will slowly move in whatever direction your cursor is facing.
The spinning graphic is much improved as well, with the weapon visible tracking around in a circle, leaving a glowing light as it spins.