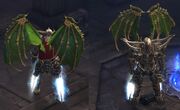 Wings of Mastery
are a vanity item for
Diablo III
. They are awarded to players who beat all 24
Set Dungeons
(excluding the
Necromancer
's) successfully within the Mastery time limit.
When used, they apply or remove mechanical green wings.
When obtained, they can be added to the Wardrobe. Only one set of Wings can be used at a time. If equipped, they will be visible even in character selection screen.
Reserved for those who accomplished the seemingly impossible. Let all who see you know that you are a Master.
Ad blocker interference detected!
Wikia is a free-to-use site that makes money from advertising. We have a modified experience for viewers using ad blockers

Wikia is not accessible if you've made further modifications. Remove the custom ad blocker rule(s) and the page will load as expected.