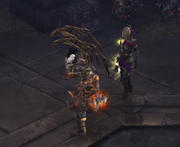 Wings of the Swarm
(a.k.a. Blade Wings) are a vanity item for
Diablo III
. They are granted to players who purchased the Collector's Edition or Digital Deluxe version of
StarCraft II: Heart of the Swarm
.
When used, they apply or remove a pair of bladed wings resembling those of Sarah Kerrigan.
When obtained, they can be added to the Wardrobe. Only one set of Wings can be used at a time. If equipped, they will be visible even in character selection screen.
Your mind expands, as though you are connecting with millions of other minds across the distant stars.
Ad blocker interference detected!
Wikia is a free-to-use site that makes money from advertising. We have a modified experience for viewers using ad blockers

Wikia is not accessible if you've made further modifications. Remove the custom ad blocker rule(s) and the page will load as expected.