The Worldwide Invitational is an annual event held by Blizzard Entertainment outside the United States. BlizzCon is a similar event held within the US.
Worldwide Invitational 2007
Edit
In May 2007, the convention was held in Seoul, South Korea. This is where Starcraft II was announced.
Worldwide Invitational 2008
Edit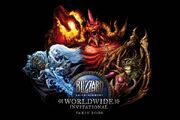 The 2008 convention was held in Paris, France. Diablo III was announced at WWI 2008, as well as the three iterations of the StarCraft II campaign: Wings of Liberty (Terran), Heart of the Swarm (Zerg) and Legacy of the Void (Protoss).
Worldwide Invitational 2009
Edit
The 2009 Worldwide Invitational was merged with BlizzCon.
Ad blocker interference detected!
Wikia is a free-to-use site that makes money from advertising. We have a modified experience for viewers using ad blockers

Wikia is not accessible if you've made further modifications. Remove the custom ad blocker rule(s) and the page will load as expected.