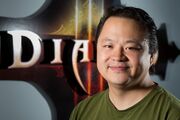 Wyatt Cheng was the senior technical game designer for Diablo III: Reaper of Souls,[1] and the current senior game designer of Diablo III.[2] He is responsible for reviewing, tuning, and balancing skills and runes across all of the game's classes. He also monitors and adjusts difficulty, champion monsters, crafting, and random item generation, among other game systems.[3] He worked on Set Dungeon design.[4]
Cheng joined Blizzard Entertainment in 2003. He has also contributed to bosses in World of Warcraft, such as the Twin Emperors, Patchwerk, and the Four Horsemen.
Cheng holds a B.S. in electrical engineering from Simon Fraser University. In addition to computer games, his hobbies include board and card games, as well as playing the guitar and cooking.[3]
References
Edit