Xoren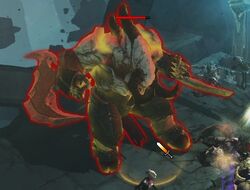 Xoren, Guardian of Malthael is a Super Unique Executioner found in the Pandemonium Fortress (level 2). He has Teleporter, Knockback and Jailer affixes.
Because of his affixes, it may be very hard to avoid his stunlocking attacks, so prepare accordingly. He will also most likely be located on a limited space (an island with two Death Gates). One can easily escape him, though, or even skip him altogether. There is no special reward for killing him.
Ad blocker interference detected!
Wikia is a free-to-use site that makes money from advertising. We have a modified experience for viewers using ad blockers

Wikia is not accessible if you've made further modifications. Remove the custom ad blocker rule(s) and the page will load as expected.