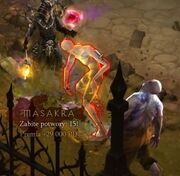 Yellow Ledbiter, I Want to Wish It All Away, is a unique Risen Dead found in Briarthorn Cemetery in Act V in Diablo III. It is extremely rare, but its spawn rate has been increased since patch 2.2.0.

This section contains facts and trivia relevant to this article.
The name and title of this monster are a possible reference to Yellow Ledbetter, a famous song by Pearl Jam.
Ad blocker interference detected!
Wikia is a free-to-use site that makes money from advertising. We have a modified experience for viewers using ad blockers

Wikia is not accessible if you've made further modifications. Remove the custom ad blocker rule(s) and the page will load as expected.