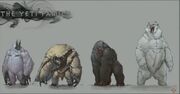 The Yeti is a Wendigo variant in Diablo II.
Yetis are best identified by their snow-white fur and berserk manner. Driven mad by their exodus into the valleys of Khanduras, they assault anything in their way.[1]
Diablo II
Edit
Yetis are found within the later parts of Act I in the Outer Cloister. Their tendency to attack in packs, coupled with their higher health and damage, can make them dangerous foes. 
Yeti

| Property | Normal | Nightmare | Hell |
| --- | --- | --- | --- |
| Type | Animal | Animal | Animal |
| Act(s) found in | 1 | 1 | 1 |
| Monster Level | | | |
| Experience | | | |
| Health points | | | |
| Damage 1 | | | |
| Attack Rating 1 | | | |
| Damage 2 | | | |
| Attack Rating 2 | | | |
| Defense | | | |
| % to Block | | | |
| Damage Resist | | | |
| Magic Resist | | | |
| Fire Resist | | | |
| Cold Resist | | | |
| Lightning Resist | | | |
| Poison Resist | | | |
| Drain Effectiveness | | | |
| Immunities | | | |
| Chill Effectiveness | | | |
References
Edit