Ad blocker interference detected!
Wikia is a free-to-use site that makes money from advertising. We have a modified experience for viewers using ad blockers

Wikia is not accessible if you've made further modifications. Remove the custom ad blocker rule(s) and the page will load as expected.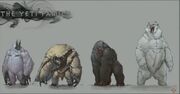 The Yeti is a Wendigo variant in Diablo II.
Yetis are best identified by their snow-white fur and berserk manner. Driven mad by their exodus into the valleys of Khanduras, they assault anything in their way.[1]
Diablo II
Edit
Yetis are found within the later parts of Act I in the Outer Cloister. Their tendency to attack in packs, coupled with their higher health and damage, can make them dangerous foes. 
Yeti

| Property | Normal | Nightmare | Hell |
| --- | --- | --- | --- |
| Type | Animal | Animal | Animal |
| Act(s) found in | 1 | 1 | 1 |
| Monster Level | | | |
| Experience | | | |
| Health points | | | |
| Damage 1 | | | |
| Attack Rating 1 | | | |
| Damage 2 | | | |
| Attack Rating 2 | | | |
| Defense | | | |
| % to Block | | | |
| Damage Resist | | | |
| Magic Resist | | | |
| Fire Resist | | | |
| Cold Resist | | | |
| Lightning Resist | | | |
| Poison Resist | | | |
| Drain Effectiveness | | | |
| Immunities | | | |
| Chill Effectiveness | | | |
References
Edit